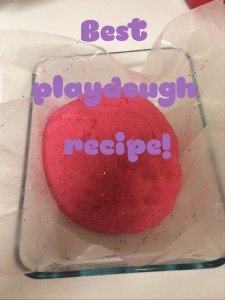 The last time I tried to make play dough it was a disaster and I vowed never to make it again. It turned out way to sticky and stuck on everyones hands. I recently signed up to be play dough mom for February in my daughter's pre school class and decided to give it another try. This time, instead of going through all the Pinterest posts and finding the best looking recipe, I consulted with an expert in this area, one of the pre school teachers I work with in the schools who has been making play dough for years-( recipe credit to Miss. Marty.) I was a little nervous, but it turned out great and was super easy! Play dough is great for a variety of reasons, it works on hand strengthening, fine motor skills, messy play, and creative play. You can roll it out and practice cutting skills(with supervision) and also use cookie cutters to make fun shapes. No need to buy play dough again!!! Here's what you need:
-2 cups water
-2 cups flour
-1 cup salt
-2 tablespoons canola or other clear oil
-1 teaspoon cream of tartar
-food coloring of your choice (about 5-8 drops of your favorite color depending on color you wish to create)
Put water and food coloring in pot and mix together, then add in other ingredients and cook on medium heat. Stir it constantly until it forms a ball and pulls away from bottom of pan when you are stirring it. Remove from pan and cool (I put mine on a piece of wax paper.) Once cooled you could add some glitter or essential oil for a little extra pazaz! Then store in sealed air tight container.
Hope you enjoy this recipe!!
Kim Heyer OTR/L