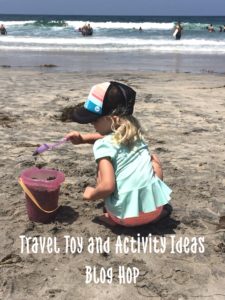 Do you have any upcoming travel plans? Maybe you are taking an end of summer trip or starting to think about holiday travels?
I'm teaming with some awesome Occupational Therapy blogging friends to share some compact and fun travel toy and activity ideas to occupy your kiddos time on car rides or plane flights and also support development in a variety of areas.
I love traveling but HATE packing! Luckily my daughter is older now, and I don't need to bring quite as much stuff, but even as an OT, I often struggle to decide how many toys and activities to bring on trips. Here are a few of my favorites that we have enjoyed using this past year when traveling that take up minimal space……
*this post contains Amazon affiliate links for ease with finding recommended tools/toys
1-Spot it/ Spot it Jr
This is a fun game that is nice and compact, I usually keep a Spot it Jr in my purse and bring to restaurants. This game is great for visual scanning and visual perceptual skills and comes in a variety of themes, so you can find one based on your child's interest.
The case is metal and sturdy, yet still lightweight and also has the added bonus of working on container management/hand strengthening skills.
2- Fruitominoes
I came across this game while vacationing in Seattle recently and I love it!!! I like that it is compact and comes in an easy zip small durable bag (also great for zipper skills practice.)
Fruitominoes is a great beginning dominoes game, my daughter who is in pre school picked it up pretty quickly. This game works on visual scanning, matching, counting, and problem solving skills. As an added bonus, you can line up and then topple dominoes, great for fine motor and hand precision skills!
3-Placing Clothespins on the Edge of a Container
Clothespins are a great hand strengthening activity, also good for practicing with using your finger "tips" , important for scissor skills. You can also use this activity academically by placing colored circle stickers on clothespins and on the edge of the container and have your child match the colors… or you can write letters on the clothespins and have your child say the letter as they place it on the container.
Clothespins are small and can easily be put in a container (I like using Talenti ice cream containers) for a fun and easy on the go activity.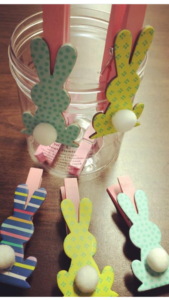 4-Foam Stickers
Peeling and using foam stickers are a great way to work on fine motor skills! Since they have some thickness, they are slightly easier to peel than regular stickers on a sheet of paper, and parents can also start the peeling of the stickers, and have your kids finish.
Both the kids I work with, and my daughter, love using these stickers for artwork creations! They are great for working on using smaller hand muscles and a pincer grasp (thumb and pointer finger) to peel the stickers. They also work on bilateral skills-using both hands together.
I usually get my foam stickers at the Dollar Store or Target dollar rack and I love that they come in a variety of themes during the year.
5-Coloring
I always bring a ziplock bag of broken crayons and some paper to keep my daughter occupied on plane rides.
I recently got this nice compact Melissa and Doug travel color by numbers set…great for practicing isolated coloring skills (using your smaller hand muscles to color smaller areas on paper) and perfect for learning numbers too, as the markers have the correlating numbers on them, how cool!
I hope this post has provided you with some fun ideas for travel toys and activities! For more great travel ideas, I have teamed up with some of my OT blogging friends on this topic, make sure to check out their recommendations:
Cindy  -Your Kids OT:
DIY Travel Games with Washi Tape and Zip Lock Bags!: Your Kids OT
Casey – OT and Grow With Me:
 The Best Toys and Activities to Pack when Traveling with Kids: OT and Grow With Me 
Happy travels!!!!
By Kim Heyer OTR/L