Lets face it, life gets busy!!! I usually am able to plan crafts ahead of time, but sometimes that just isn't possible. Here is an easy craft I used in the clinic this weekend with NO prep time required….perfect for the busy therapist and parents. This is a great craft as it works on a variety of skills-visual motor/pre writing, cutting, sequencing, and fine motor/hand strengthening. Hope you enjoy it!!!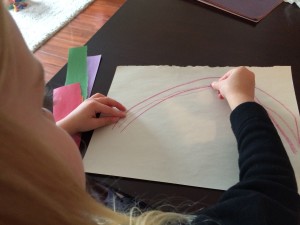 1.Parent/teacher/therapist-Draw the outer lines of the colors of the rainbow, have your child find the correct crayon and draw to stay in between the lines that you drew to fill in each area(as best they can)……. great practice for drawing a curved line, great for visual motor skills development and pre writing skills.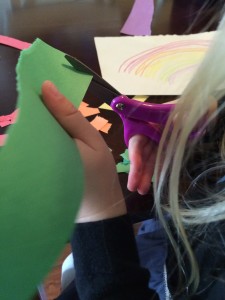 2.Use scissors to snip pieces of paper for colors of the rainbow.
3.Squeeze elmers glue onto each color of rainbow, great for hand strengthening and visual motor skills, and place the cut pieces onto the rainbow in correct order (great for sequencing.)
4.Lastly, have your child pull apart cotton balls and glue to each end of the rainbow for clouds, great for hand strengthening and working on a pincer to tripod (2-3 finger) grasp pattern (thumb, pointer, and middle finger) important for pencil grip and picking up and using hands for manipulation of smaller items.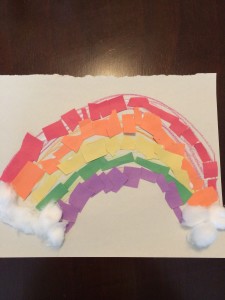 By Kim Heyer OTR/L