We love making holiday cards in our house! My daughter is in pre school and is at a great age for crafting. There are so many great skills that are worked on when making holiday cards……and everyone loves receiving home made cards vs store bought right? Here are some great card making ideas that also promote fine motor, visual motor, and hand strengthening skill development……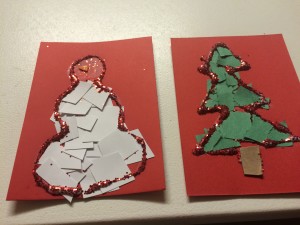 Tearing Paper/Cotton Balls– tearing tissue paper, construction paper, or pulling apart cotton is a great activity for promoting hand strength and also working on using a tripod to pincer grasp pattern (important skill as kids learn to write and pick up smaller items.)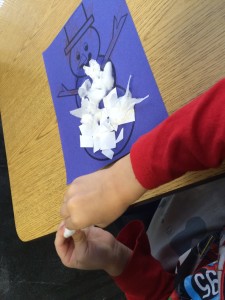 Squeezing Elmers Glue– this is a great hand strengthening activity and also good for development of visual motor skills when using pictures and having kids trace around the outside of the picture with the glue and then adding glitter to stick on the glue….. everything is better with glitter right?!!!!!
Crumpling Tissue Paper-this is a great activity to work on using smaller hand muscles and a tripod to pincer grasp to place the items on the paper.
Cutting –I love having my daughter cut across strips of paper and then cut paper into smaller pieces to decorate her card. This task requires close supervision. If your child is having trouble with use if standard child's scissors try these scissors-
They are great starter scissors which the child closes and then they spring open and are great for small hands.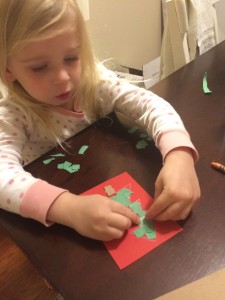 Tracing– Many of my kids like to draw pictures on holiday cards but have trouble with drawing the figures they want. I often times will draw a dotted line to outline the picture they would like and then they connect the dots…. Great for practice of visual motor skills. Also, cards are great for practicing with writing your name. My daughter is only 3 , so I will write her name in upper case and then help her to trace it with a color of marker or crayon that she likes.
Stickers and stamps– kids love both of these!!!! Peeling stickers is a great fine motor activity (foam stickers are a bit easier for smaller hands) and use of smaller hand stamps are great for hand strengthening skills.
Most of all, making cards is a great activity for kids to unleash their creativity. They can make anything they'd like and are always proud of the end result. Happy card making!!!
By Kim Heyer OTR/L 12/18/2016