As an Occupational Therapist working in the schools, I work with many preschoolers on pre writing and early writing skill development to help to prep them for kindergarten. Having solid foundational skills are so important for writing skill development! While we work on many activities to facilitate classroom success, here are a few tricks I use specifically to facilitate writing skill development. I have also used these tools with my preschool daughter and have seen great success:
*this post contains Amazon affiliate links for ease with finding recommended tools/toys
1-Coloring/Drawing on a Slanted or Vertical Surface–
Use of a vertical surface is great for proximal arm strengthening skills! Both slanted surfaces and vertical surfaces also help to support wrist stabilization (wrist touching paper) which is important for developing more isolated coloring skills and hand movement skills. I love using an easel with chalk and also use bath crayons in the tub! When the weather is warm we will sometimes take paint brushes and water and have the kids "paint" the walls outside. When seated at the table, you can make your own slant board by using a large binder with the larger side facing away from the child.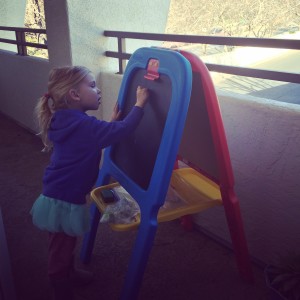 As a mom, sometimes I am a little nervous about using bath crayons and staining. I really like these bath crayons (pictured below) as they wipe off easily if you wipe designs off right away when done with bathtime. I often will have my daughter wipe her designs down with a wash cloth at the end of bathtime to work on more arm strengthening skills! This activity has been one of my favorite "mom" hacks as it has been an easy activity to practice on busy school nights!

2- Use of broken crayons–
All of the crayons I use with my pre school kids are broken crayons! This promotes use of a tripod grasp pattern(thumb, pointer finger, and index finger) which is the optimal grasp to use for writing tasks to promote hand movement with writing vs arm movement and to prevent hand/arm fatigue.  I like to use the Crayola wide crayons and break them into smaller pieces.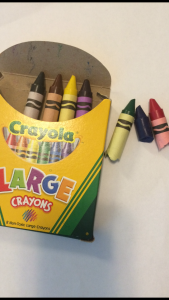 3-Use of various mediums to practice drawing of pre writing lines–
Some ideas include finger paint, chalk, sand,  whipped cream, etc. Pre writing lines include vertical lines, horizontal lines, circles, etc. Kids love using finger paint and different mediums to make this activity fun and play based. This is also a great multi sensory play activity! Instead of using shaving cream, I like using whipped cream, so if kids want to taste it as well, it is OK. I love using this new neon gel board that lights up and plays music as well. I will usually have kids work on pre writing lines in pre school and when they are ready, start with learning to trace, copy, then write their first name.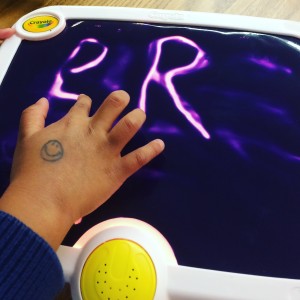 4-Handwriting Without Tears–
This is my FAVORITE pre writing and writing program for pre school and early elementary school aged kids. I love that it is a multi sensory program and the great songs they have for activities. The kids really love these songs and remember them too! I have seen a lot of success with this program! I love using mat man/song with pre schoolers for learning to draw a person, and wooden pieces for big line, little line, big curve, little curve with songs for early letter skill development. Here is a picture my daughter drew of her first mat man, after only building him and listening to the song one time. Before hearing this song and building mat man, she drew a bunch of scribbles. Pretty awesome right?!!!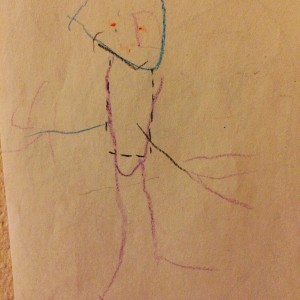 Here are just a few of the Handwriting Without Tears supplies I like to use, more info about this program on Handwriting Without Tears Website.
5. Games-
I love using games with my pre schoolers and early elementary aged kiddos as they are a really fun way to work on some foundational skills important for development of writing in the future. Here are some games that promote visual motor skill development (hand-eye-coordination skills.) You can also use bubbles and practice popping with your pointer finger, or tossing and catching a large ball or scarves too.

6. Do a Dot Marker Activities–
Use of Dot markers are a fun activity for pre school aged kids! I love that it works on early visual motor skill development as the child has visual boundaries to place the dots in. As your child gets older you can also use these worksheets with crayons and color within the circles which is great for practice of isolated coloring skills. I love using this website: DLTK Kids  for FREE dot marker printables! You can also practice letter skills and have your child make letters or trace letters with the dot markers.


I hope you find these activity suggestions helpful! For more info on some of the above pre writing tools, check out my new pre writing section of this website.
By Kim Heyer OTR/L