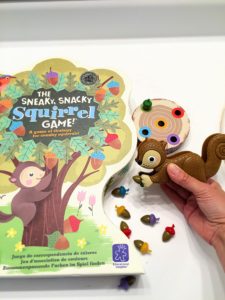 I love using games during Occupational Therapy treatment sessions! Not only do they facilitate a variety of developmental skills, they also help with social skill development (ie: taking turns.) I have so many fond memories of playing games with my family and friends as a child! I love giving games as gifts and playing them with my daughter and the kids I work with both in the school and clinic setting. Here is a list of my 5 favorite games for pre school and early elementary aged kids that work on a variety of developmental skills.
*this post contains Amazon affiliate links for ease with finding recommended toys
1.Cat in the Hat I Can Do That! Game
This is my favorite gross motor skills game!! This is a great game for working on following visual directions while incorporating gross motor skills (ie: crab walk, crawl under, hopping.) I love that this game comes with picture cards so your child can look at the pictures to follow the directions. It works on positional skills too -ie: under, over, through, etc. This game can be easily graded and you can start with having your child follow 2 of the steps of the directions and then work up to following 3 steps. My preschool and early elementary aged kids love this game and I love using this game as a warm up prior to seated fine motor activities during OT sessions!
2.The Sneaky Snacky Squirrel Game
This is a great basic game for pre school children involving color identification, number identification, and best of all……use of great large squirrel tweezers for hand strengthening. Tweezer games are great for pre schoolers and early elementary aged children, as it helps with the development of use of your distal hand and separation of the two sides of the hand …. important skills when using scissors and holding a pencil/crayon.  This is a nice game for multiple players as well. The tweezers are perfect for pre school hands and can also be used for other activities as well, or just for moving the acorns in the game from one place to another. A great "sneaky" way to work on fine motor skill development!
3.Operation–
I love that this classic game now comes in a variety of versions to suit a child's interest. There is the classic version which is very similar to what I played as a child. There are also some new themed versions…. Finding Dory,  Minion, Star Wars, and even Frozen. My favorite is the revised, more basic Operation game(Hasbro Operation Silly Skill Game with Sound)… the holes are a little bigger, allowing for more success and less frustration with younger hands (sadly has been discontinued, but still available on Amazon.) This game is better for early elementary aged kids as it may be a little too tricky for pre school hands. This is a great quicker game that I love using at the end of my treatment sessions to work on fine motor and visual motor skills.
4. Elefun–
This is an exciting game that incorporates lots of movement! Butterflies fly out of an elephant trunk and children capture the bright butterflies in individual nets. I love using this game for working on visual motor/hand eye coordination skill development.
5.Spot It-
This is a great game for visual perceptual skill development. I love that it comes in a variety of themes so you can choose one that is of interest to your child (ie: Disney's Frozen, MLB) It also comes in a Junior Version with larger more basic pictures (animals) for younger kids to locate, as well as alphabet, number, and shape versions too. This is a great travel friendly game as the cards come in a small canister that can easily fit in bags and purses for easy entertainment when going out to a meal or when traveling. You also get a bonus of working on container opening and closing for hand manipulation skills with use of the tin.
I hope you found these suggestions helpful! Happy game playing!
By Kimberly Heyer OTR/L    11/2016